Entertainment
Hocus Pocus 2 (2022) – review, opinion about the film [Disney]. Do you remember the Sanderson sisters?
When two friends accidentally revive three witches who nearly thirty years earlier had nearly taken over Salem, the entire city – and perhaps the world – is in danger. Fortunately, the Sanderson sisters are as confused as they are lately, so a little smartness and cold blood should be enough to defeat them. Like last time.
The phenomenon associated with the name "member berries" is nothing new, but it was only "South Park" in its twentieth season that gave it a comic name and drew the attention of a wider audience to the fact that nowadays writers prey on nostalgic memories of the viewer. The mere references to older productions are nothing bad, but more and more often I have the impression that apart from them, a given production does not offer anything else. – or at least nothing else of value. Of course, there are also glorious exceptions, like the last "Top Gun" which, apart from being almost entirely made up of references to the first part, was simply a nice, reasonably complex story with an emotional core. Member Berries were less skilfully used, for example, by the latest trilogy of "Star Wars" or the cinematic "Uncharted". There, the creators wanted the viewer to feel this nice, warm flutter of nostalgia at every step so much that they often forgot that they were to tell a coherent, logical story. And how does the new "Hocus Pocus" fit into all this?
Hocus Pocus 2 (2022) – film review [Disney]. Old-new story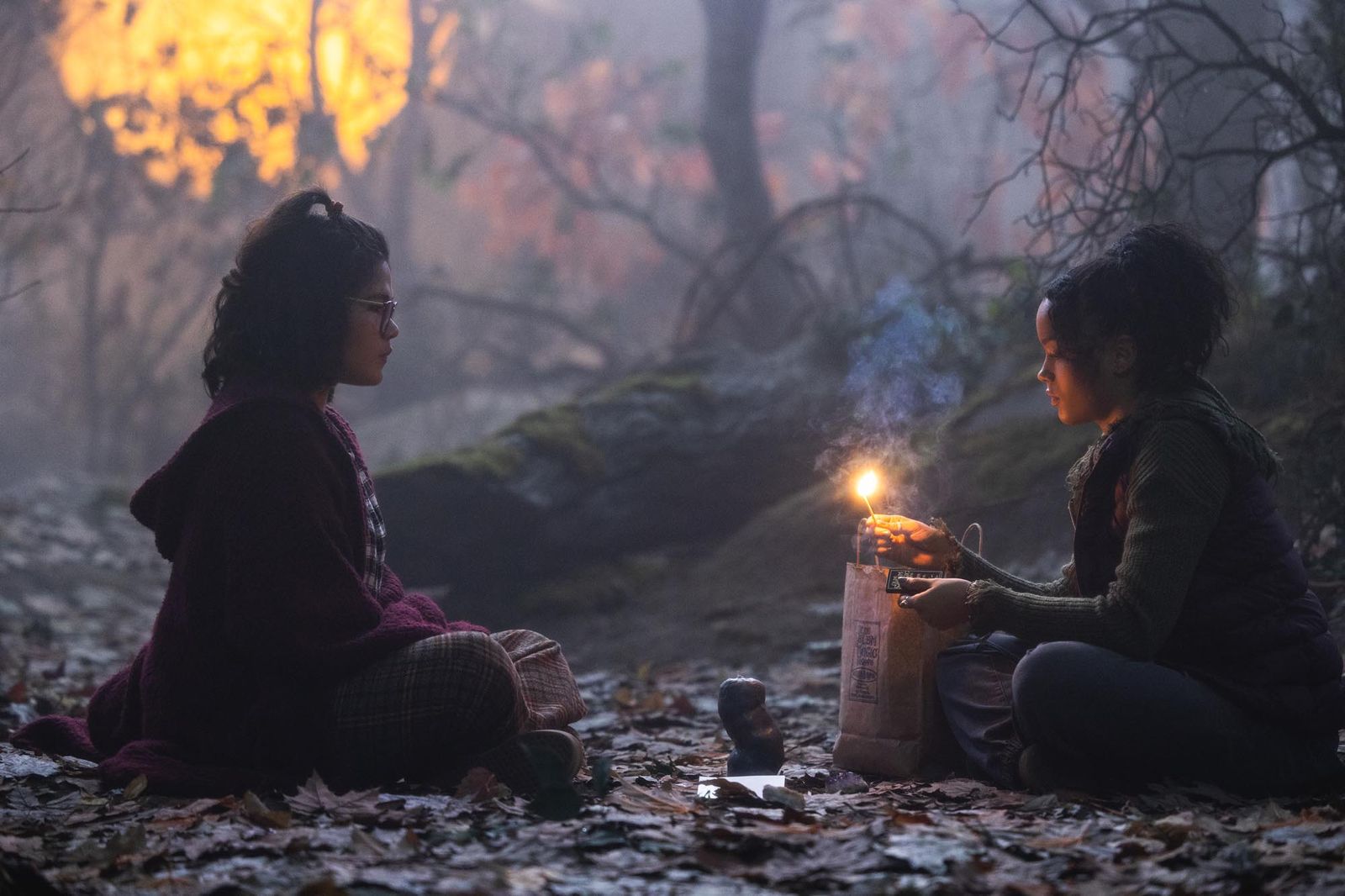 Becca (Whitney Peak) and Izzy (Belissa Escobedo) have a long interest in mysticism. In their favorite store in the city, they regularly buy all kinds of candles, minerals, amulets, and no one knows what else. On Beccy's sixteenth birthday, they venture into the woods to perform a ritual. It's a kind of tradition that Cassie (Lilia Buckingham) has always accompanied them so far, but things have gone bad between them since the latter found a boyfriend. As a result of their innocent games, the wicked Sanderson sisters come back to life once more. They know what they want, but they have as little oil in their heads as they always have.
The plot in the continuation roughly repeats the most characteristic elements of the original. So the sisters are fooled by children pretending to be witches, they fly on heavily non-standard brooms, Winnie (Bette Midler) sings to the inhabitants of Salem, zombie Billy Butcherson (Doug Jones) looks scary, but is generally a nice guy, the whole city gets mesmerized and so on. Almost everything about sisters looks and sounds familiar. And although the introduction might suggest that I will have a problem with it, I must admit that they were the most pleasant elements of the whole picture. That's because all the new characters and plots were just plain horrible.
Everyone knows what Disney is like today. From the beginning, it was to be expected that the Sanderson sisters, as women, would be whitened, because today we cannot have simply evil and malicious characters – they are certainly simply misunderstood … To top it all off, literally all the guys in the movie are either incredibly stupid or bad, or a little bit of this and that. Cassie's boyfriend barely qualifies as a homo sapiens, and the only sympathetic guy comes out almost immediately as a bad guy. The whole plot is sewn with extremely thick threads, very clearly communicating where it is going, paying comically a lot of attention to items and information that will turn out to be relevant later. At first it irritated me a bit, because I had the impression that the creators did not respect my intelligence. Later I remembered that this is a children's film, and just because I'm old enough to remember the original doesn't mean that the sequel was sewn for me. For us, they are member berries!
Hocus Pocus 2 (2022) – film review [Disney]. Let's thank the world for Bette Midler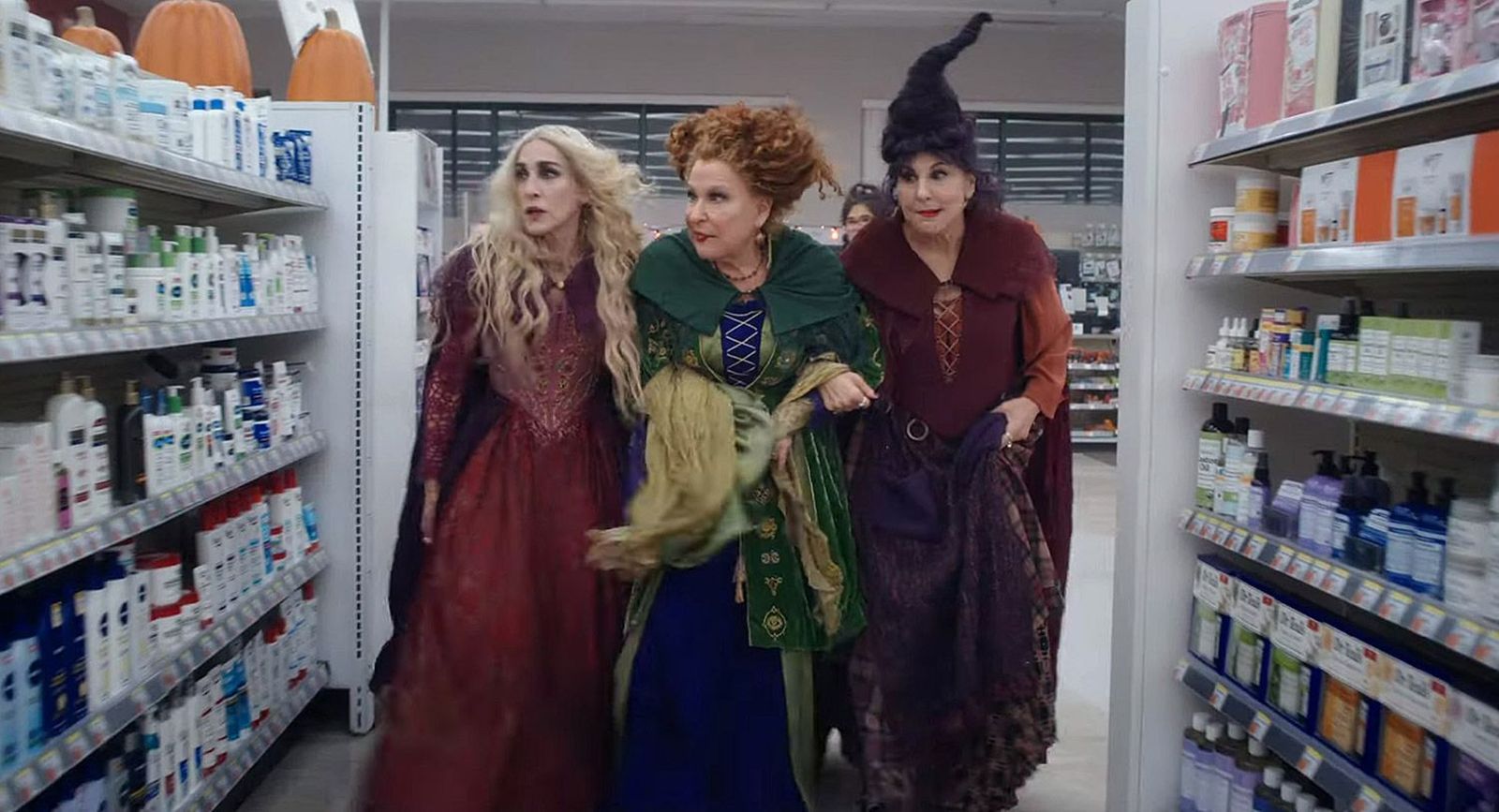 On the technical side, Anne Fletcher's film is absolutely correct, even if a few sets are a little unconvincingly pretending to be open space. The eye of the spellbook looks as nice as ever, flying witches look just as, ah, believable as they did 30 years ago, and the spell effects are simple but effective. Amateurs of unusual shots and visual tricks, however, have nothing to look for here. It's just solid craftsmanship and nothing else.
The biggest problem with the film is how completely unpleasant characters are the main characters. Feel neither friendship nor despair when trapped or anything. It's hard to feel into a movie when even the characters in it don't really care about what's going on. The Sanderson sisters were different. Sarah Jessica Parker and Kathy Najimy still feel great in their simple, stereotypical roles, playing second and third fiddles very effectively with their eldest sister.
Bette Midler is pure gold, and she is drawing the entire movie almost by herself! This is one of those roles in which the actor doesn't have to have any brakes, and the more voluptuous he plays, the more fun the end result. Today's English, spoken by all three of them, is still as amusing as it used to be, as is their not being familiar with today's times – technology, customs and all this jazz. Closer to the end, however, Midler gets the opportunity to show his true acting claw and he does it so incredibly well that it practically outshines all the previously mentioned shortcomings with its brilliance. I did not expect the creators to serve us such an emotional finale, and although I am irritated by the change in the sisters' makeup, I cannot say a bad word to it.
Hocus Pocus 2 is another movie that works mainly because it is largely made up of references to the original, and all new ideas are either bad or downright harmful. Were it not for the excellent Sanderson sisters, and in particular the inimitable Bette Midler, this film would be a complete flop, a soulless copy of the not-so-outstanding original. The final grade for everyone will be completely different, depending on how warm memories are associated with the first part. Personally, I am disappointed with him. If it weren't for this ending, there wouldn't be one truly original idea in the entire movie. The film lacks soul and you can see that it was made only to bring a profit slightly, not because the creators had an interesting idea. Well-known brands are not revived to replicate only old ideas.