world
China. The authorities are moving away from the "zero covid" policy, the health care system is in a difficult situation
China. The authorities are moving away from the "zero covid" policy, the health care system is in a difficult situation
The Caixin portal informs about long queues to specialists, closed clinics and problems with the shortage of medical workers in China. The health care system in the Middle Kingdom is facing problems soon after the communist government decided to abandon the restrictive "zero covid" policy. Among other things, it was decided to disable the tracking application, which was necessary to use certain public places. According to experts cited by Chinese journalists, the country will face the largest wave of COVID-19 cases in three months.
In cities such as Guangzhou, Beijing and Shijiazhuang, which are at the forefront of easing restrictions, clinics are already full of patients and there are infections between them and doctors, which makes some doctors unable to work, Caixin said.
In Wuhan, where the first cases were detected at the turn of 2019 and 2020 COVID-19the authorities announced on December 1 a list of 42 fever clinics, but some of them were closed after a few days due to too many infected people, the Chinese portal reported.
"Long queues for fever clinics in Beijing hospitals, significant delays in deliveries, cleared shelves in pharmacies. This wave of infection since reopening last week has hit us fast and hard. Virtually everyone in our office has covid," she tweeted. Dawn Wei Tan, head of the Beijing office of Singapore's "Straits Times" newspaper.
Problems with access to doctors
Caixin quotes in his pages the statement of the grandson of a man suffering from lung cancer. He said that his grandfather's hospital in Beijing was closed due to the high number of infections. According to the interlocutor of the Chinese portal, many hospitals in the capital have stopped accepting cancer patients, so thousands of patients have not been able to receive chemotherapy recently.
There is even greater concern for serious cases of COVID-19.
"The symptoms of most patients are mild, but given the huge expected number of infections, even a small proportion of severe cases can lead to a shortage of intensive care resources," said Wang Guangfa, a respiratory disease expert at Peking University First Hospital, quoted by the Chinese portal.
Tracking app disabled
For almost three years of the pandemic China with the help of lockdowns, mass tests and strict travel restrictions, they avoided large waves of infections that swept across Europe many times, Japan or South Korea. In recent weeks, authorities after a series of protests by residents dissatisfied with the strict covid regulations – but suddenly lifted many restrictions. One symbol of these changes is the Chinese authorities' announcement on Monday to halt the operation of a nationwide tracking app that had previously been required of travelers and at the entrance to certain public places.
The Tongxin Xingcheng Ka application, based on the Big Data system, analyzed data on the location of phones and the places from which they connected to the network. On this basis, it displayed a green arrow on the screen, required when boarding planes or trains, along with information about the person's travel history.
The tracking system was an important element of China's strict restrictions and "zero covid" policy. In some cases, people who the system considered visiting risk areas were not allowed to enter certain places, travel or had to undergo additional examinations.
The app will shut down at midnight Monday into Tuesday, more than two years after it was launched, authorities announced on social media. As part of the easing of restrictions in China, mass testing, which had previously been used regularly by millions of people, was abandoned in China, and those infected with mild symptoms were allowed to quarantine at home, instead of being taken to government isolation rooms as before.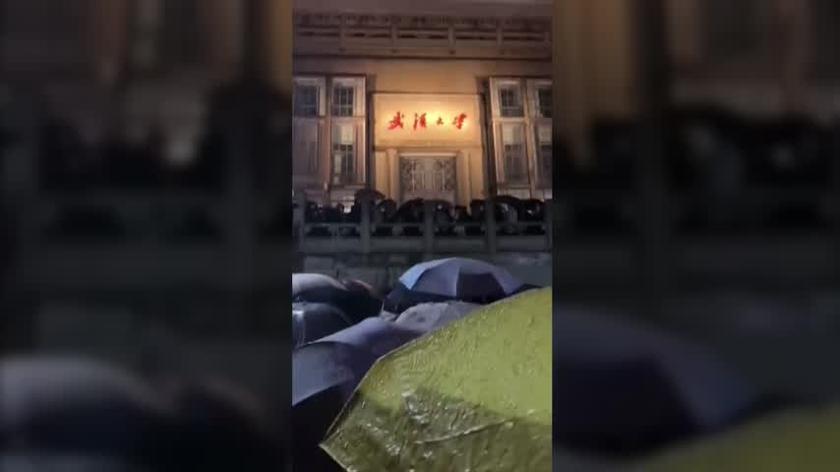 Waiting for the main wave
In China, however, there are still many local applications that display the so-called health codes, which until recently were required when entering public places. These applications are not integrated into one system and most often operate within a given city or province. Also these codes are no longer checked in most places.
Caixin journalists quote experts who emphasize that the Middle Kingdom, which is moving away from the strictest restrictions, has to deal with a shortage of resources and the gap between urban and rural development. According to specialists cited by Chinese journalists, the peak of the wave of infections in China will occur in one to three months. By this point, 60% of people can be infected. inhabitants of the country, i.e. over 800 million people, which could overload intensive care units.
In 2017, according to data cited by Forbes magazine, there were only 3.6 critical care beds per 100,000 people in China. inhabitants, much less than in USA, Germany and South Korea. Caixin said many Chinese hospitals have since increased the number of intensive care beds, but still have not achieved their goals. Analysts and experts had previously estimated that a complete lifting of restrictions in China could lead to up to 2 million deaths from COVID-19. However, the authorities emphasize that the currently dominant omicron variant is much milder than the original coronavirus variety, and the vast majority of the population is vaccinated with native vaccines.
Main photo source: EPA/ALEX PLAVEVSKI
#China #authorities #moving #covid #policy #health #care #system #difficult #situation